Operator shortages, outdated technology and the demand for high quality boxes are all known production challenges that have affected Box Makers for years. However, due to COVID-19 and the multiple ripple effects of the 2020 pandemic, unanticipated complications and increased severity of existing challenges have caused concern for many Corrugated Converters around the world. Now more than ever, facilities need converting technology that places a high priority on operator safety, ease of operations, box perfection, productivity, low cost of ownership, and ease of cleaning. Well, call our engineers clairvoyant because the SUN625 Fixed Frame Vertically Opening Rotary Die Cutter was designed with those exact advantages in mind.
"SUN Automation created the SUN 625 Rotary Die Cutter with the operator in mind – to provide them with easy job set up, reduced maintenance times, comfort of a safe production environment, and the ease of machine operation, all while management benefits from the SUN625's high production volumes and lower cost of ownership." – Eric Aulton, SUN Global Product Manager – Rotary Die Cutters
About SUN 625
The SUN625® RDC is not a typical rotary die cutter. It is a fixed frame, vertically opening, flexo printing RDC, capable of feeding, printing, and converting a 125" blank, and engineered for 24/7 production environments. SUN625 is the only fixed frame, vertically opening rotary die cutter on the market. The use of SunTrac vacuum transfer system overhead is the key to the open architecture and clear line of sight within the machine. Unlike traditional split line open/close systems, operators can easily and safely walk in, out, and through the SUN625, providing access to all internal components without disrupting auxiliary equipment. SUN625 features several of SUN's leading machine components known for their performance and quality: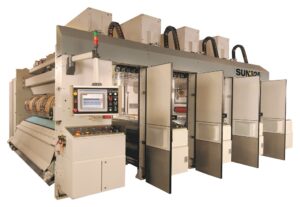 With the increased safety requirements and workforce shortages caused by COVID, the SUN625's fixed-frame vertically open design is ideal for improving operator safety, production automation and cleanliness.
Operator Advantages: Ease of Operations, Cleaning & Safety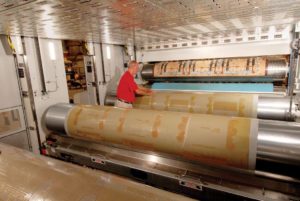 With the vertically-opening, fixed frame architecture, the SUN625 Rotary Die Cutter has a well-lit interior and boasts multiple features that make operating the die cutter much easier and safer for your team. While inside the SUN625, operators can easily communicate with each other, cleaning high traffic areas and performing set up and maintenance tasks safely and efficiently. High visibility within the machine's interior dramatically improves safety, as operators can see if something or someone is in the machine and avoid major accidents. In addition, there are no exposed impression nips, protecting your operators from potential harm. Easy access to printing plates, ink systems, and other important production components, without disturbing the pre-feeder, allow for quick job changes and increased productivity. Also, cleaning the machine is easier, and now more important than ever, to keep your operators safe from COVID-19, as well as, improve sheet quality and output.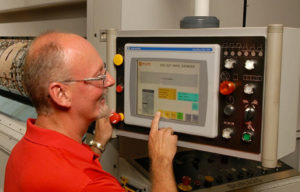 Integrated on all SUN625s, the SunSet® touchscreen operator interface is a fully automated solution to machine set-up. This system utilizes order storage to retrieve the parameters in which previous jobs were run and the high graphic operator interface makes set-up fast and simple. The system's uncomplicated controls make training and using the interface easy for any operator regardless of experience or skill-set and comes standard with remote connectivity to provide support and upgrades by the SUN Service team.
Considering the shortages of qualified operators in the industry, now with the safety and staffing challenges due to  COVID-19, protecting your operators and maximizing their abilities is a job the SUN625 was engineered for.
Management Advantages: Productivity & Profitability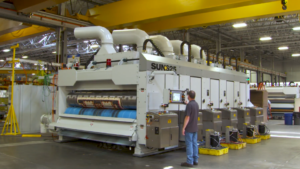 The SUN625 Rotary Die Cutter was engineered to be a versatile, low-cost, high-producing workhorse for the economic Converter. With the ability to run 200 kicks per minute / 12,000 sheets per hour, this true 125" RDC was built to withstand the demands of a three shift 24/7 high production plant, while keeping maintenance costs low. Management can fully utilize, not only the speed of the machine, but its wide range of capabilities: running everything from lightweight single wall with high recycled fiber to rigid double wall,  small sheets to large sheets, simple print orders to complex print orders, and single piece to multi-out patterns. The SUN625's vertically-opening, fixed frame design, as noted earlier, allows for quick operator set up/maintenance  and cleaning, which minimizes safety risks, reducing downtime and increasing productivity and profitability. Notably, the SUN625 rotary die cutter costs significantly less than other competitor RDCs of similar features, uses less real estate within your facility, has a proven low part-failure rate and very low costs for replacement parts.
As management navigates the economy and industry during these unpredictable times, investing in converting machinery that is economic, efficient and profitable is a must.  The proven low cost of ownership over the lifetime of the machine, plus its sheet versatility and productivity features, make the SUN625 a profitable choice, with little risk for Converters, during these challenging times.
The Best Choice for A Promising Future
Purchasing a Rotary Die Cutter is never an easy decision. With the added factors of COVID-19, staffing shortages, safety requirements and more, choosing a rotary die cutter that both operators and management love is key to solidifying your future within the corrugating converting market. The SUN625's architecture and machine features offer increased safety, cleanliness, visibility and ease of operations for operators, while being a profitable and productive investment for management. Contact SUN Automation Group today to learn more about this innovative workhorse and request a quote.
https://www.sunautomation.com/wp-content/uploads/2019/04/18209406_1768221670155092_7011569279205335103_o.jpg
703
1050
Matthew Miller
https://www.sunautomation.com/wp-content/uploads/2018/03/Sun-logo.png
Matthew Miller
2020-08-21 16:13:15
2020-08-21 16:19:15
Post-Pandemic Advantages of the SUN625 Rotary Die Cutter