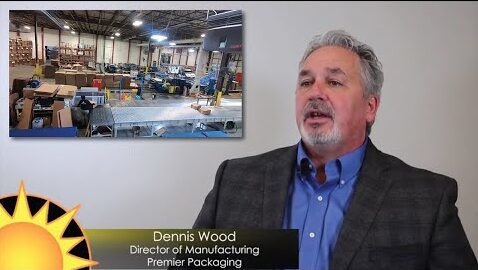 Article first published in the April 2020 issue of Board Converting News
About Premier Packaging
Premier Packaging began in 1994 in Louisville, Kentucky, as a single sheet plant. Increasing demand from the Indianapolis/Chicago region led the company to open its new facility in Indianapolis in 2016. From an order-quantity standpoint, the Indianapolis plant is far from the average sheet plant–its average order quantity is around 5,500 pieces,where most sheet plants are averaging orders of around 1,000 or 1,500 pieces. In the 2018 peak season between October to December, the company was producing boxes using a 50-inch Serenco, which was running seven days a week, 24 hours per day in Indianapolis. The staff was running shifts around the clock: two 10-hour shifts during the week and two 12-hour shifts on the weekends.
In order to reduce labor costs and the amount of overtime, and to meet the growing volume demand, Premier Packaging was in need of a machine that could produce very big truckload quantities for high capacity customers. Concurrently, they also required a machine capable of quick changeovers, as they field orders as small as 100 pieces that meet the needs of local mom-and-pop businesses as well. "We produce pretty much everything, from a full die-cut all the way up to inside/outside print boxes, regular slotted carton (RSC) boxes, full overlap (FOL) boxes, and beyond," says Bryan Fitch, General Manager of Premier Packaging's Indianapolis facility. "When we're not in our peak season, we need to be able to change order to order so we can stay cost-competitive in the corrugated industry."
An Investment in LMC
"We needed to invest in machinery in order to grow and keep our operating expenses down, and after installing our new Latitude Machinery Corporation (LMC) investment, the difference was immediate," says Fitch. The Indianapolis facility was outfitted with a 3-color Latitude Flexo Folder Gluer PP1230. The increase in output since the changeover has been noticeable for the management of the facility and for the bottom line of the organization. Premier Packaging is able to run 37 to 38 million square-feet per month, while simultaneously decreasing the shifts they had been running. In the peak season of October through December of 2019, following the installation of the new LMC machine, the Indianapolis facility produced 25 percent more footage of corrugated while staffing only two weekday shifts.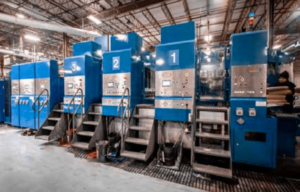 "The Latitude machine has definitely helped our bottom line and has opened up capacity for us," says Fitch. "In the past, a lot of items might have caused us to raise our inventory levels through peak season. But because of the speeds of the machine, the capacity it has and the quick turnaround time on setups, we are now able to get a lot more done in the same amount of time."
The ecommerce industry is growing at 15 percent per year in North America–Amazon alone has more than 250,000 staffers in 110 facilities in North America alone. Premier Packaging's investment in the Latitude machine helped them to meet the current needs of the e-commerce market while planning for future growth in this rapidly expanding vertical.
The installation of the new Latitude machine began in late August of 2019 with the goal of an October 1 start date. Because of the output demands of peak season for Premier Packaging, they needed to start off with a full understanding of the machinery so that they could run at maximum capacity and not compromise margin and output. Premier Packaging staff training with the SUN Automation Group and Latitude experts began early in the process, with the goal of maximum efficiency and profitability. Starting October 1, the machine was able to operate at top speed. This was a major factor in their record-setting three-month window during peak season in 2019.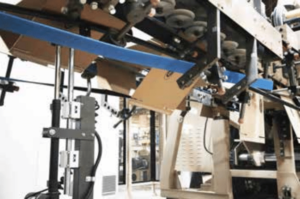 Earlier in 2019, SUN Automation became the exclusive representative in North America and Central America for LMC., providing machinery, parts and support. LMC is a world-class manufacturer of corrugated converting equipment, specializing in flexo folder gluers and rotary diecutters. Known for its reliability, Latitude equipment is a global success with machine sizes ranging from mini to jumbo. The Taiwan-based company has partnered with SUN Automation to offer new and existing North and Central American customers like Premier Packaging the trusted service, support of a North-American based industry leader.
The intuitive Latitude machines are easy for the staff of Premier Packaging to use when setting up orders. And with the technology available with modern machines from Latitude, technicians are able to remotely access the machines to help troubleshoot in real time without always having to send a technician to the facility or explain solutions remotely. "The machine is very easily operated and self-explanatory. All of the buttons are self-explanatory–the dimensions and how to move the machine around are very simple," says Dennis Wood, Director of Manufacturing at Premier Packaging. "Our crews picked up on the machine very well. And the communication with SUN Automation Group works very well. SUN has been very responsive–we have a 24-hour hotline to call if there are issues."
The key to keeping the machine running at maximum efficiency is keeping it clean. The fixed-frame architecture of the Latitude machine, as well as the ease of opening up the machine for service and maintenance, keeps downtime to a minimum. Premier Packaging shuts the machine down for only six hours per week, typically Thursday morning or Thursday night. Timing straddles the shift changeovers, which means that crews from both shifts are able to split the cleaning duties up between them.
Helping Premier Packaging Deliver
Serving a wide range of industries and companies ranging in size from mom and pop to global brands have given Premier Packaging a reputation for quality and dependability. With its new Latitude machine and the training, service, and maintenance support from SUN Automation, Premier now has the tools and the capacity to continue to live up to its name.
Watch the customer testimonial video:
https://www.sunautomation.com/wp-content/uploads/2020/10/EbRvOxQWAAEG75A-e1602530964236.jpeg
270
478
Matthew Miller
https://www.sunautomation.com/wp-content/uploads/2018/03/Sun-logo.png
Matthew Miller
2020-10-12 15:31:02
2022-05-09 16:20:39
Premier Packaging Ups Capacity With New Latitude Machinery Investment