It's no secret that the corrugated market has slowly but surely increased in intricate process work. With the rise of E-commerce, unboxing trends, point of purchase displays and inside designs, corrugated printers needed to quickly adapt to the complex needs of the market to stay competitive.  As the demand for higher quality print continues to grow, corrugated converters are looking to new innovations to tackle the detailed designs of today's top brands. Corrugated ink system manufacturers have made great strides in technology to help Converters achieve the precise, controlled ink metering needed for high quality print.
Currently, there are 3 types of corrugated ink systems: a roll-to-roll ink system, a single doctor blade system and a dual doctor blade system. Converters who have no requirements for process work should have no issues using the 2-roll ink systems to achieve flood coating or block letter printing of shipping box clients. However, Converters seeking to diversify their product portfolio and improve print quality should consider switching to an ink system that utilizes a doctor blade.
There are many reasons to switch to a doctor blade ink system, but which of the 2 doctor blade systems are best for your process? In this blog post, we'll focus on dual blade, enclosed ink systems and the advantages and disadvantages of this technology. We've considered the same for single blade ink systems in another blog published here: LINK.
Dual Blade Ink Systems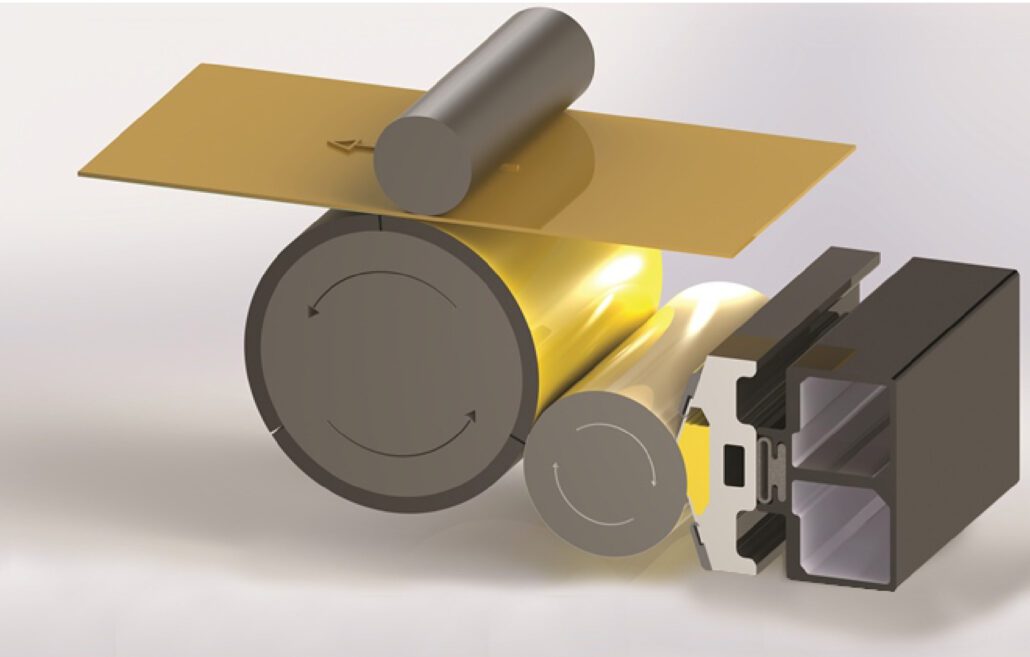 A dual doctor blade ink system is a fully enclosed ink system, with two doctor blades installed – one blade for metering the anilox roll and one blade for ink containment. Dual blade systems require 2 end seals and adequate chamber pressure in order to maintain the tight seal between the ink chamber and the anilox roll.
Advantages
Dual blade ink systems are catching stride in the industry as the premium ink system solution for high quality process printing. The major advantages of a dual blade system derive from its fully enclosed design. The sealed chamber protects the ink from the harsh environments of corrugated, sustaining proper ink viscosity much longer than an open system.  In addition, the secured chamber leaves little access for dust, dirt and debris to contaminate the ink or interrupt the ink pump, which improves color consistency, print quality and uptime. Also, ink waste is at a minimum with enclosed systems considering the containment blade holds ink inside the chamber and little ink is wasted within an ink pan. A dual blade system is a process work horse, effectively metering the tighter cells and intricate details found in today's process work. Utilizing the advantages of a dual blade ink system is a sure way to delight customers with the best quality print.
Disadvantages
Although dual blade ink systems are an incredible technology for process work, they, like many print systems, have some disadvantages. Because of the added containment components and the product development warranted for this ink system, the price of a dual blade system is higher than that of a single blade system. Also, a dual blade system is most effectively used for process work and is often restricted to that niche of print jobs, making them less economic for printers who print a variety of jobs on a single press. Additionally, there is the added costs of consumables (2 blades and end seals), which need to be replaced regularly. Lastly, enclosed chamber systems require more operator training, and therefore are more vulnerable to operator mishaps. Press disruptions like end seal blow outs, chamber leaks, nonuniform blades and more, can be caused by a new or under-trained operator interacting with the equipment.
AccuPrint™ Dual Blade Ink System
For converting machinery printing predominantly process work, a dual blade ink system is the best solution for your jobs. This system effectively meters higher line screen anilox rolls, while maintaining color consistency and print quality.
For superior graphics using quality inks and substrates, AccuPrint™ is the corrugated ink system of choice. Manufactured by SUN Automation Group, AccuPrint™ is a flexo ink-metering system that protects ink from the harsh factory environment to improve ink quality and performance. Designed to counteract the traditional disadvantages of a dual blade system, AccuPrint™ features a toolless design allowing for quick and easy end seals and blade changes. Additionally, AccuPrint™  is equipped with a pressurized air bladder to uniformly hold the blades in place to consistently meter the anilox. Ultimately, AccuPrint™ technology minimizes the risk for operator error. Backed by the SUN service and support team, SUN offers operator training and 24/7 on call or onsite support to assist with any and all operator needs.
https://www.sunautomation.com/wp-content/uploads/2019/04/SUN-Product-Photo-PRINTING-03.jpg
1251
1960
Matthew Miller
https://www.sunautomation.com/wp-content/uploads/2018/03/Sun-logo.png
Matthew Miller
2020-01-08 16:59:10
2020-12-24 14:45:32
Dual Blade Ink Systems: Advantages and Disadvantages